Chunks O' Fruti® Recipes
"Make Your Own Frozen Drinks!"
Fruti® Smoothies and Cocktails
Whip up delicious frozen drinks at home!
Frozen Fruit Smoothies! Create delicious frozen fruit smoothies at home for a fraction of the price you pay in your favorite smoothie bar or coffee shop! With Fruti® bars, you know you're using all natural ingredients for a gluten-free treat.
You can use either 3 or 4 oz. Fruti® bars in your favorite flavor. Use milk for the kids, or create quick and easy cocktails by adding your favorite spirits.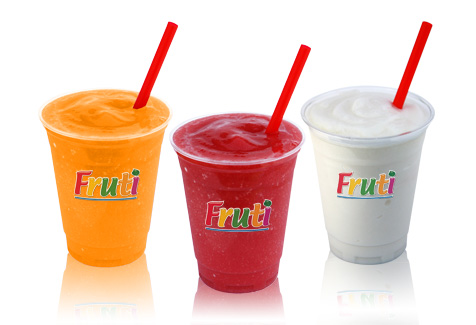 Frozen Fruit Bar Smoothie Recipe
You'll Need: 4 Fruti® bars, 10 ounces liquid (Non-fat yogurt, Water, Milk or Soy Milk).
For a Spirited Cocktail add 4 ounces of rum, tequila or your favorite spirit and a splash of water in place of the non-fat yogurt, milk or soy milk.
Directions: Place Fruit bars on counter while setting up blender. Pour ½ liquid into blender. Break bars into 1" chunks for easy blending. Put ½ the fruit bars into liquid in the blender. Run blender on high until blended to desired texture. Put remaining fruit bars and liquid into blender-blend on high. Add 4-5 ice cubes, finish blending on high.