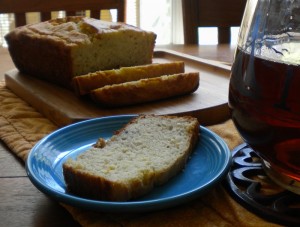 Chunks o' Fruti Pina Colada Bars meet bananas in an elegant tea bread with a hint of coconut.
Delicately flavored and slightly sweet, this light, moist bread makes a lovely afternoon snack with hot or iced tea.
Try it with cream cheese for a buffet, too. Slice into 2″ fingers, spread with cream cheese, top with sliced fruit if desired, and serve along with other sweet or savory snacks.
Tropical Tea Bread
2 Pina Colada Fruti Bars
1 stick butter
1 t coconut extract
4 very ripe bananas, mashed
4 beaten eggs
2 1/2 c. self-rising flour
Melt Fruti Bars and butter together in microwave. Beat in coconut extract, bananas, and eggs with an electric beater till mixture is smooth and creamy.
Pour into a greased loaf pan and bake at 350 degrees for about one hour, till a knife pushed into the center comes out clean. Cool slightly, remove from pan, and cool completely before slicing with a serrated knife.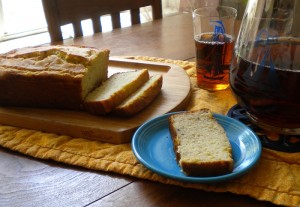 Remember, you can't make Fruti recipes with frozen juice bars or ice bars. Make sure that fruit is the first ingredient for any bar you try in this recipe. You can find Fruti bars at Sam's Club, Market Basket, or Walmart — use our store finder.