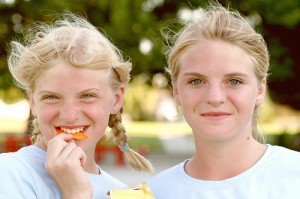 Busy moms may not be home when the kids arrive home from school. Kids can't wait for dinner when they've been active all day — but neither do you want to come home to a kitchen that looks like it's been visited by locusts. The solution is twofold: teach your children to reach for fruit and vegetable based snacks to stay healthy and stock your kitchen with goodies they'll like.
Try these ten healthy trade-offs:
Fruit Chews → Frozen grapes Fruit chews and fruit snacks that are really popular after-school snacks have next to no nutritional value and are high in sugar. Instead wash off some grapes and put them in the freezer for an easy snack that requires no prep. Just grab and much!
Chewy oatmeal and granola bars → Trail mix Granola and oatmeal bars are made chewy by adding in sugar or other additives. Instead, skip the additions that keep the bits together and just have trail mix. You can customize it to your family's tastes, put in high-fiber mix-ins like dates, and nix the sugar. Make a huge batch and store it in individual baggies in the cupboard where your kids can get them.
Potato chips → Baked apple chips Fall is apple season so why not use them to make a great alternative to high calorie potato chips? Core and slice some apples, sprinkle a little cinnamon on them, and bake until they're dried out. We love to make bags of these on the weekend together.
Ice cream → Fruti bars Ice cream is a favorite snack for many kids but it's likely to be high in saturated fat, high-fructose corn syrup, and artificial additives. Instead, try a Fruti bar. Single serving sized bars control portions while you're gone so you don't come home to find yet another empty ice cream carton in the trash two days after your shopping trip.
Mac and cheese → Cream cheese and veggies Orange cheese laden with preservatives and processed noodles may be a hit with kids but there's a better alternative. Spread cream cheese in celery for a tangy flavor and creamy texture with more nutritional value.
Nachos → Microwaved sweet potatoes with cheese and salsa Nachos made with high-salt tortilla chips, sour cream, and tons of cheese is like a heart attack on a plate. Instead, microwave a sweet potato and top with low-fat cheese and salsa.
Cake → Parsnip muffins If you can secretly bake while your kids are asleep, parsnip muffins can help you sneak in root vegetables in their diet without them even knowing. We love this recipe by Alton Brown for fooling our own kids. Shhh—it's a mom-to-mom secret.
Pizza → Cherry tomatoes and string cheese If your child is craving tomato sauce and cheese, instead of pizza they can try cherry tomatoes and some mozzarella string cheese for a pop of flavor and fun.
High sugar cereal → Berries and granola Another snack many kids reach for when they get home is a bowl of cereal but they offer very little that's healthy for your kids. Nutritionists say sugary cereals are the equivalent of a candy bar with vitamins. Try replacing sugary cereal with fresh berries and granola.
Popcorn → Roasted Chickpeas Popcorn is a healthy food packed with fiber, but microwave-ready packets often contain lots of fat and artificial flavors. Canned chickpeas can be quickly roasted for a great popcorn alternative. Coat in curry or olive oil and a dash of salt and in no time you have a crunchy snack that's much healthier than butter-coated popcorn.
Some of these require some prep work on the part of an adult, but it's fun to make a big batch on a weekend for snacks throughout the week.