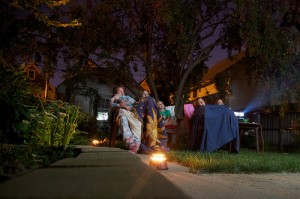 Warm summer nights call for activity outside but when your children are played out, why not take the show outside? An outdoor movie is a great way to get fresh air and enjoy all summer has to offer. It's like having a drive-in in your own backyard. Here's a guide to help you make a great movie night:
Supplies for a Perfect Backyard Movie
Movie

Projector
Speakers
Extension cords
Laptop or DVD player that is compatible with projector
Movie screen
Comfy seating
Delicious snacks
How to Make Backyard Movie Magic
You can project your movie on the wall of your house or garage, or create a backyard movie screen from canvas or blackout shade material. The place where you have to get creative is in hanging your screen. Instructables has step by step instructions for building a screen alongside a building using PVC pipe, while Wired has instructions for a stand-alone version.
If you're happy hanging a sheet over a hedge, that'll work too.
Once you've got your screen set up, get your electronics together and go for a quick test run before it's movie time. Make adjustments to the projector to get the image looking perfect — ahead of time, not while yoru friends and family are waiting around for the movie. It usually helps to put the projector up on a table or other raised surface.
Finally, set up a seating area and bring out some snacks. While movies just aren't movies without popcorn, a lot of parents worry about serving popcorn to small children for fear of choking. Fruti bars make a great summer late night snack while you're watching a movie.
Then just sit back and relax with your family and friends and enjoy the movie!