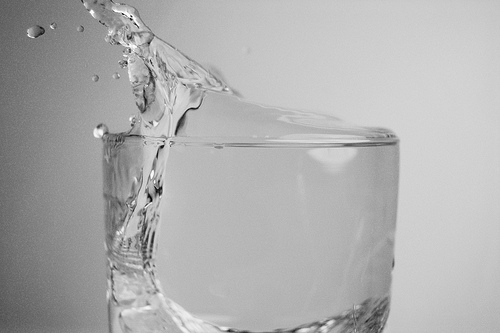 One of the easiest health improvements is this: drink enough water.
Americans are notoriously bad at drinking enough fluids throughout the day. Drinking enough water throughout the day is important to staying healthy because our bodies need water for basic processes, like breathing, thinking, and keeping your heart beating. Without water, your body feels fatigued, thinking is more difficult, and you can get more headaches. Over the long term, you can see more gum disease and kidney stones.
So how do you actually get yourself to drink more water? It's something we all need to do but few of us actually accomplish. First, figure out how much water you should be drinking and then follow these tips to get closer to your goal.
Set an alarm at intervals throughout your day to remind you to drink a glass of water.

Drink one glass of water every time you use the restroom throughout the day and make it a habit.
Use a smartphone app to track your water consumption.
Add flavors to your water or special ice cubes. You can cut off a small square of a Fruti bar for a fun ice cube sub.
When you need a break at work, head for the water cooler.
Take a water bottle with you everywhere you go.
Figuring out how to get more water in your system might mean making a system to get you more water throughout the day.
Eating a healthy diet of fresh fruits and vegetables also helps your water intake because there is a high amount of water in these foods. If you're not eating enough fruits and veggies, be sure to try to increase them as you work towards your water intake goals.