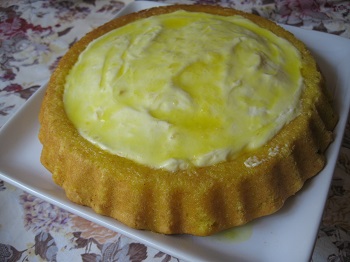 The classic Gateau Miroir is a triumph of the pastry chef's art. You make a ladyfinger biscuit base, cut up and cook fruit with a cooked sugar syrup, create a mousse from the fruit and Italian meringue lightened with whipped cream, and top the whole thing with a perfect layer of gelatin created from gelatin leaves and juice pressed from the fruit you prepared.
If that doesn't sound like the best way to spend an afternoon, try out our Pina Colada Mirror Cake, inspired by the French masterpiece but much simpler to make
We've replaced the traditional pastry components with convenience foods and subbed Pina Colada Fruti bars for the cooked fruit in syrup, so you won't need a candy thermometer. Do not attempt this with ordinary frozen bars,  by the way. Make sure you choose Fruti bars — the first ingredient is fruit.
Pina Colada Mirror Cake
1 pineapple cake mix, plus ingredients to prepare
2 Pina Colada Fruti bars
1 small box pineapple Jell-O
1 small box white chocolate instant pudding mix
1 cup whipped topping
Step 1: Bake the cake. We used a specially-shaped pan.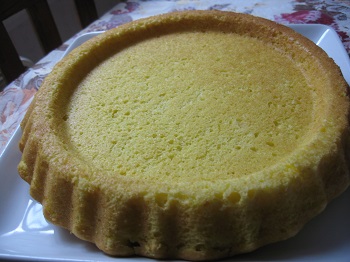 Step 2: Dissolve Jell-O in 1 cup boiling water. Set aside 1 cup of the Jell-O — do not chill.
Step 3: Chop Fruti bars and stir into Jell-O till the mixture is smooth.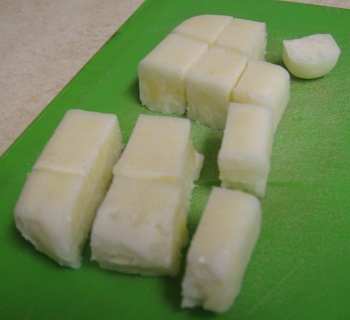 Step 4: Beat pudding mix into fruit mixture.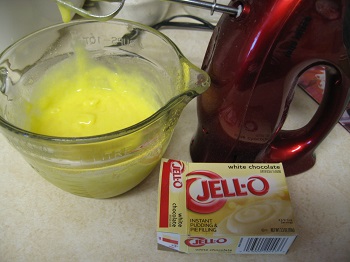 Step 5: Stir whipped topping into mixture to complete mousse.
Step 6: Spread mousse onto cake.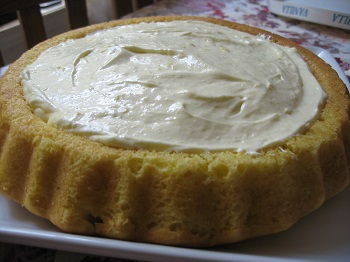 Step 7: Pour reserved Jell-O on top of mousse.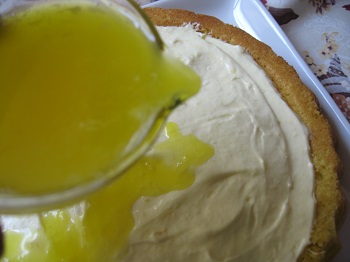 Spread Jell-O with a frosting spatula. We haven't attempted to recreate the smooth, mirror-like surface of the Gateau Miroir, but you could. If you would like to achieve this, make sure that the mousse layer is completely smooth and flat.
Either way, you have a glimmery dessert fancy enough for guests but easy enough for an every day dinner.